---
The Most Advanced Texas Flat Fee MLS Listing Website
You get your very own Listing Manager.
You can create a Custom URL, Make Changes to your listing photos, schedule Open Houses
or PRINT OFF COLORED PROPERTY FLYERS AND SELECT FROM DIFFERENT LAYOUTS!!!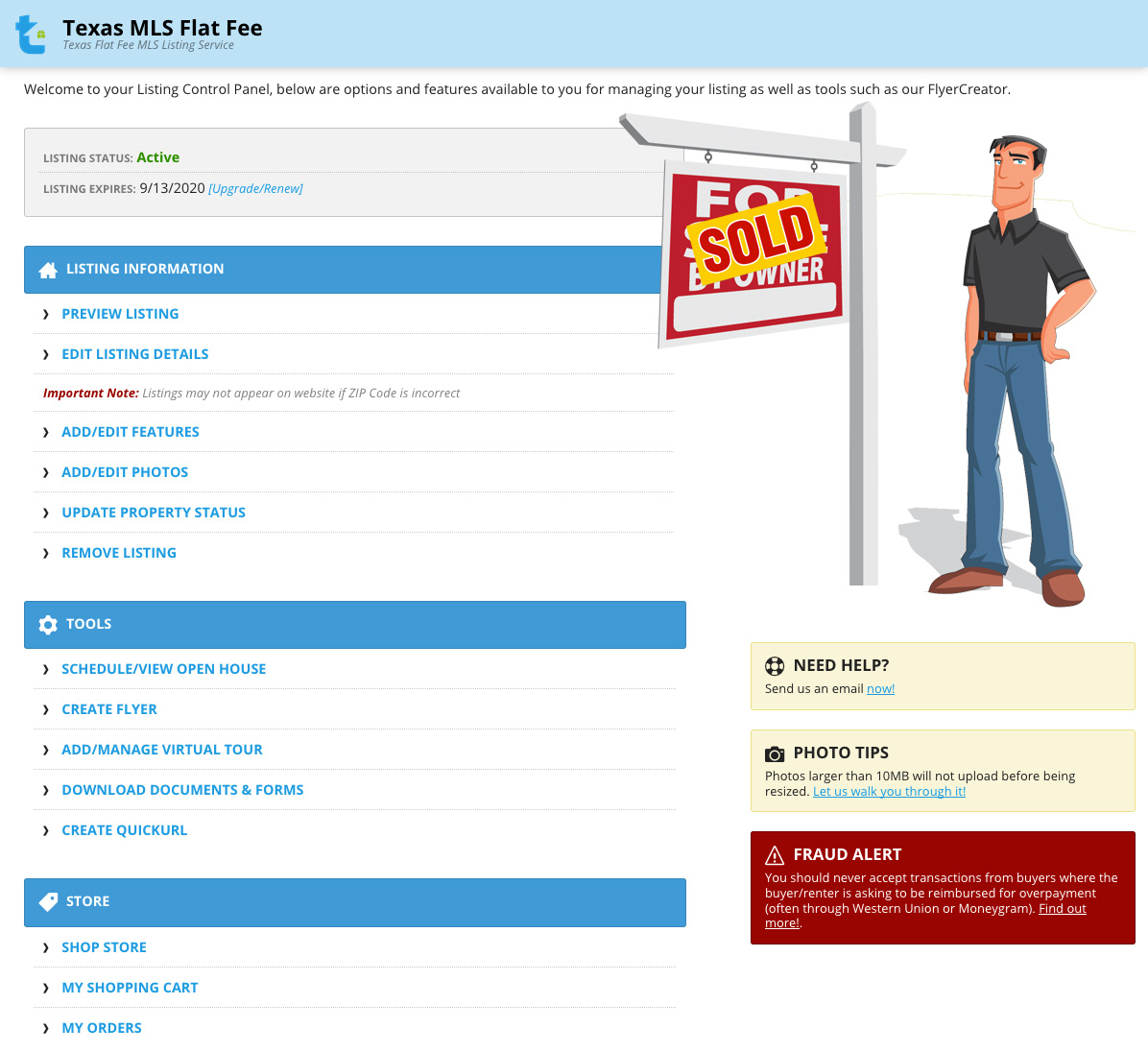 Take a look at our Flyer Creator, just for you...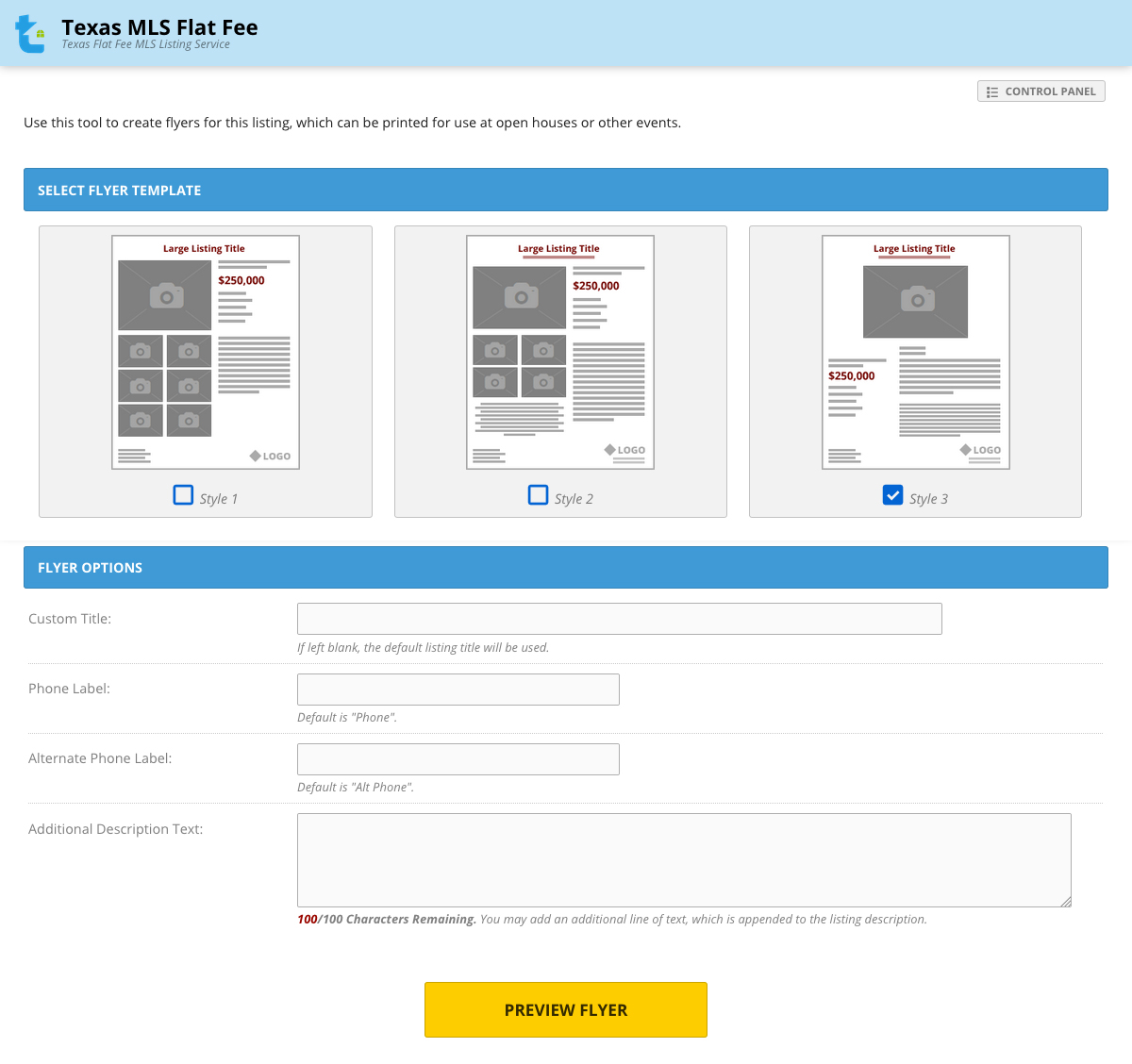 Everything you need to sell your property...
And an extremely fast Texas Flat Fee MLS listing!

Texas Flat Fee MLS Listing Coverage local board of realtors.
Amarillo Flat Fee MLS (AARMLS), Austin Flat Fee MLS (ACTRIS), Beaumont Flat Fee MLS-RETS (BBOR), Bee County Flat Fee MLS (BCMLS), Brazoria Flat Fee MLS FTP (BMLS-FTP), Brownsville-South Padre Island Flat Fee MLS BOR RETS (BSPIBOR), Bryan-College Station Flat Fee MLS (BCSMLS), Calhoun County Flat Fee MLS FTP (CCMLS-FTP), Central Hill Country Flat Fee MLS BOR - RETS (CHCBOR-RETS), Central Hill Country Flat Fee MLS BOR FTP (CHCBOR-FTP), Central Texas Flat Fee MLS (CTXMLS-RETS), Coastal Bend Association of REALTORS® RETS (CBAOR-RETS), Corpus Christi/Coastal Bend Flat Fee MLS (CCARMLS), Dallas Flat Fee MLS (METROTEX), Fort Hood Flat Fee MLS (FHMLS), Galveston Flat Fee MLS FTP (GTXMLS-FTP), Galveston MLS RETS (GTXMLS-RETS), Greater El Paso Association of REALTORS® (GEPAR), Greater McAllen Flat Fee MLS RETS (GMARMLS-RETS), Greater Tyler Flat Fee MLS (GTARMLS), Henderson County Flat Fee MLS BOR RETS (HCBOR-RETS), Highland Lakes Flat Fee MLS (HLMLS), Houston Flat Fee MLS (HARMLS), Kerrville Flat Fee MLS FTP (KVMLS-FTP), Kerrville RETS (KVMLS-RETS), Laredo Flat Fee MLS (LBRMLS-RETS), Longview Area Flat Fee MLS (LGVBOARD-RETS), Lubbock Flat Fee MLS (LARMLS), Lufkin BOR Flat Fee MLS RETS (LBMLS-RETS), Matagorda County Flat Fee MLS BOR FTP (MCBOR-FTP), Nacogdoches CountyFlat Fee MLS Board of REALTORS® (NCBR), Nolan County Flat Fee MLS Board of REALTORS® (NCBOR), North Texas Real Estate Info Systems (NTREIS), Odessa BOR Flat Fee MLS FTP (ODMLS-FTP), Odessa BOR MLS RETS (ODMLS-RETS), Palestine Flat Fee MLS AOR FTP (PAOR-FTP), Palestine AOR RETS (PAOR-RETS), Pampa Board of REALTORS® (PBOR), Permian Basin Flat Fee MLS FTP (PBMLS-FTP), Permian Basin MLS RETS (PBMLS-RETS), Port Neches Flat Fee MLS Port Arthur Flat Fee MLS Nederland Flat Fee MLS RETS (PNPANMLS-RETS), Rio Grande Valley Flat Fee MLS RETS (RGVMLS-RETS), Rockport Flat Fee MLS FTP (RPMLS-FTP), Rockport MLS RETS (RPMLS-RETS), San Angelo AOR RETS (SAAORMLS-RETS), San Antonio Flat Fee MLS (SABOR), South Padre Island Flat Fee MLS RETS (SPIMLS-RETS), Temple Belton Flat Fee MLS (TBBOR), Texarkana Flat Fee MLS (TMLS), Texas MLS (TEXMLS), Uvalde Flat Fee MLS Board of REALTORS® (FTP) (UBoR-FTP), Victoria Flat Fee MLS FTP (VMLS-FTP), Victoria MLS-RETS (VAAR-RETS), Waco Flat Fee MLS (WACOMLS), Wichita Falls Flat Fee MLS (WFMLS)


Texas MLS Flat Fee
Ph: 346.352.3117
TX US